Also-Known-As 25th Anniversary Weekend: Celebrating the Global Adoptee Community | September 17 – 19th, 2021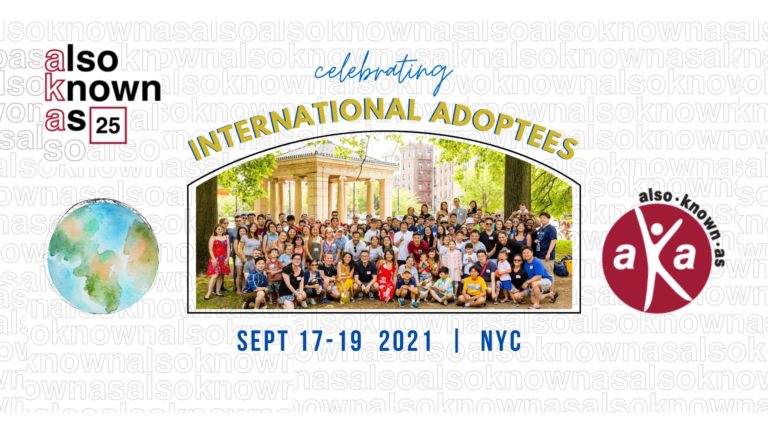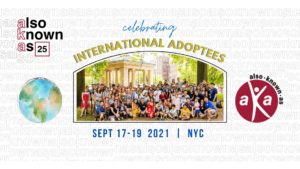 This year marks our friends at Also-Known-As Inc.'s 25th Anniversary, and in recognition of this milestone occasion, they are hosting several events for us to gather together in celebration and discussion. The theme, "Celebrating the Global Adoptee Community," recognizes that our community spans beyond the local tri-state area, spanning many countries of origin and destination. Consider joining them for this momentous occasion! The mission of Also-Known-As is to empower the voice of adult international adoptees, build cultural bridges, transform perceptions of race, and acknowledge the loss of the birth country, culture, language, and biological family experienced by adoptees.
COVID policy: In compliance with NYC policy and for the safety of attendees, proof of vaccination will be required to attend all events except the picnic. Please see the policy note on each event for additional details specific to that event.
More Info and tickets available here: https://www.eventbrite.com/e/also-known-as-25th-anniversary-weekend-tickets-165081393893
Facebook RSVP: https://www.facebook.com/events/143682143625166
Schedule of Events
————
Friday, September 17, 2021
Kick Off Party at PHD Terrace | Midtown NYC | 7:00PM-10:00PM
————
Saturday, September 18, 2021 |
Bystander Intervention: Building Safer Communities at KAAGNY | 2:00PM-4:00PM
Social Happy Hour at Tap Haus 33 | 4:00PM-7:00PM
————
Sunday, September 19, 2021 |
Also-Known-As 25th Anniversary Picnic at Central Park | 12:00PM-3:00PM