Rethinking What's Possible
The 2023 IKAA Korea Gathering
July 10th to 16th 2023
We're excited to announce the next IKAA Korea Gathering taking place July 10th to 16th, 2023 at COEX and other venues in Seoul, Korea. Held every three years, the Korea Gathering is a unique opportunity to explore Korea while connecting with the global adoptee community. Explore new ways to discover and engage with Korea, lift up diverse adoptee stories and experiences, and facilitate connections and understanding. Thousands from over 15+ countries have attended past Gatherings. You can expect some similar programming from previous years, but we will also be making exciting new changes!
The theme of the IKAA Gathering 2023 is Rethinking What's Possible. International adoption from Korea is approaching 70 years old and Korean adoptee-led organizations have existed for over 35 years. The community has come a long way in grassroots community building, post adoption services, and advocacy. Today, we continue to see adoptees discovering the community and widespread digital technologies have enabled adoptees to find, connect, and collaborate in ways that weren't before possible.
Rethinking ways to build, explore, and empower our community.
Build multi-generational and global connections to better understand our diverse community, and show what we can accomplish when we work together.
Explore new ways to discover and engage with Korean food, culture and history. It doesn't matter if this is your first time back or if you're an experienced traveler to Korea.
Empower adoptees and tell our own stories. As a community, we can acknowledge hardships and injustices. And we can celebrate our accomplishments and strengthen resilience through joy.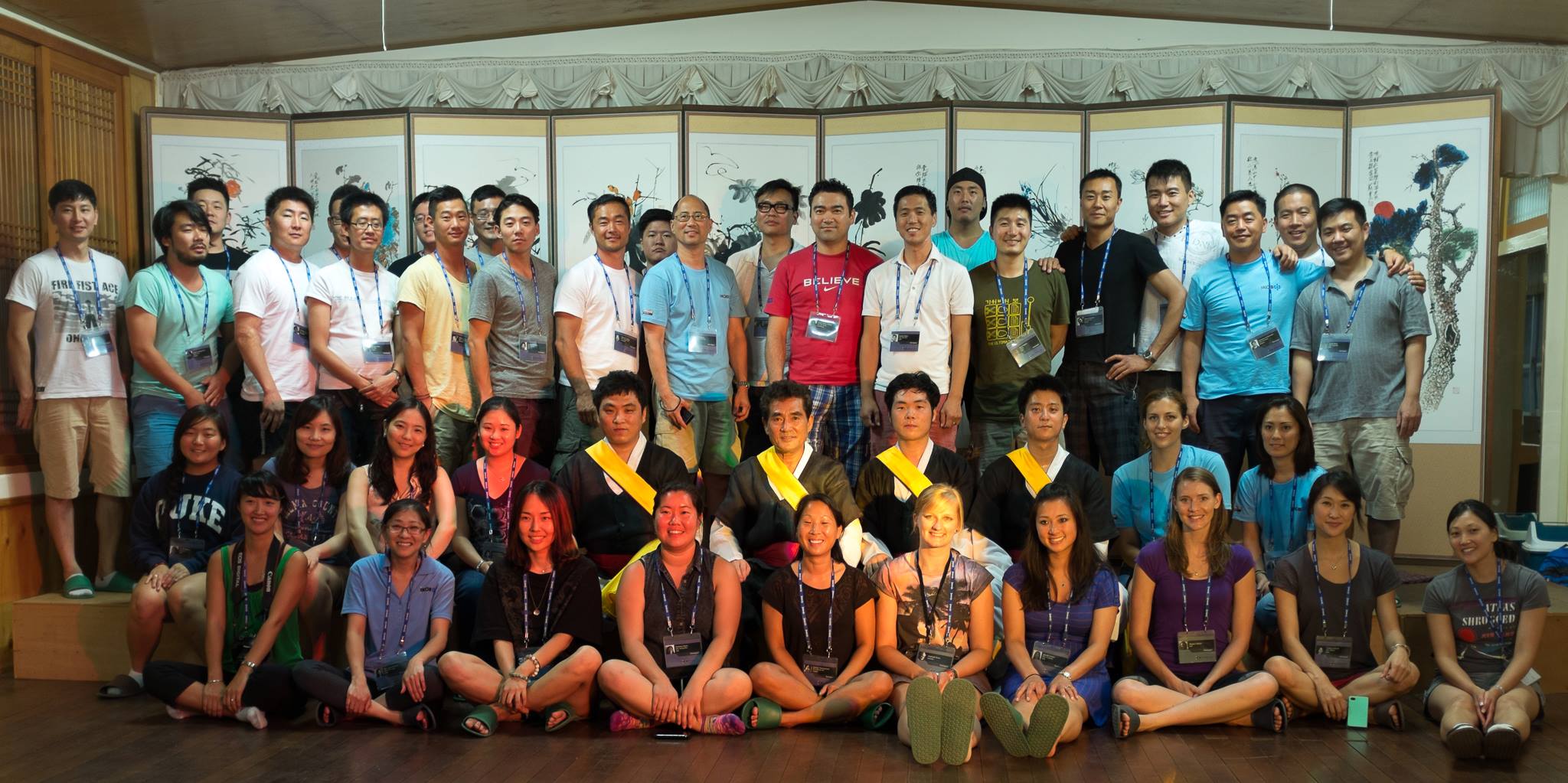 Mon July 10th to Sunday July 16th 2023
Detailed schedule coming in 2023

Early Bird Registration ($75 ticket discount) will be active until the end of January 2023. Note: Ticket refunds will be accepted on request through March 2023. Adoptees living in Korea may request a special discount.
Diverse programming for a diverse community
Choose Your Own Adventure: The adoptee community is multi-generation and global. We expect participants to have varying interests. Our aim is to offer programming that appeals to a wide range of interests and for attendees to decide on which programs / events they want to participate in.
Welcoming Newcomers: Are you newly exploring the adoptee community? Will this be your first trip back to Korea? No worries! We have designed intentional programming for newcomers that includes virtual sessions to help connect attendees prior to Korea and a newcomers only welcome event which was launched in 2019. We'll also be providing guidance on how to navigate Seoul and recommendations on things to see and experience.
Call for Program Proposals Open
All submission are due by Jan 8th 2023. Late submissions may not be accepted. If you have any questions, please contact G23programming [at] ikaa [dot] org.
Sixth International Korean Adoption Studies (IKAS) Symposium
The Sixth International Symposium on Korean Adoption Studies will be held at the IKAA Korea Gathering. We recognize and celebrate the interdisciplinary nature of Korean adoption studies with scholars from both the humanities and social and behavioral sciences. This research also engages with issues of race and ethnicity, migration and diaspora, gender and family, and globalization and transnationalism. The day-long symposium will bring together scholars from around the world who are conducting research in the field of Korean adoption studies. We also welcome submissions from scholars creating linkages between transnational adoptions from Korea and other sending countries such as China, Ethiopia, Guatemala, and Russia. We firmly believe in the dissemination of Korean adoption studies scholarship to a public audience to address the gap between research and practice. We particularly welcome research that is jargon-free and accessible to a general audience.
Representative topics include (but are not limited to)
Adoptee activism and coalition building in South Korea and abroad

Current adoption-related issues in Korea

Adoption, deportation, immigration

Inclusive and nuanced discussions of adult adoptee mental health

Adoptee intersectional identities (e.g., disability, sexuality, gender)

Kinship and affective relationships (e.g., genetic testing, birth search and reunion, chosen families, community building)

Representations of adoption in literature, drama, and performance, and popular culture

Historical and socio-political context of Korean adoption

Ethics and positionality in Korean adoption research
Virtual Sessions
New to this IKAA Korea Gathering is the inclusion of virtual events before and after the weeklong event. Prior to the Korea Gathering, we'll be hosting virtual sessions to help connect and inform attendees. Afterwards, we'll be hosting virtual sessions to encourage reflection and post event discussion.
Presentations, Workshops, and Discussion Groups
IKAA Gatherings provide a time for participants to explore specific topics related to adoption, the adoptee experience, and the themes of the Gathering. Past sessions and topics have included birth family search, birth family reunion experiences, building relationships with birth family members post-reunion, Korea from a historical perspective, developments in domestic Korean adoption, working and living in Korea, Korean adoptees' relationships with adoptive family, parenthood, exploring identity through art, LGBTQ discussion, DNA testing, and much more.
For 2023, we will focus on more perspectives from Korea; Korean birth family members, Adoptees living in Korea, and more. Additionally, we will expand on our age breakout discussion groups and feature additional discussion group sessions by topics.
Amazing Race Scavenger Hunt
An "Amazing Race" style competition/scavenger hunt in Seoul, where groups of participants go to various locations around the city, completing activities and tasks to see who can successfully complete the most in the least amount of time.
Newcomers Welcome Event
In 2019, we launched a welcome event for newcomers to the IKAA Korea Gathering and large adoptee community events. The event will be held at the beginning of the week and is intended to facilitate connection among newcomers in a friendly and supportive environment.
Creative Arts Program
We are hosting a new Creative Arts Program at the IKAA Korea Gathering in 2023. The Creative Arts Program will provide an opportunity for adopted Koreans to share their artistic talents as an expression of their adoption journeys. As a multi-disciplinary arts program, Koreans adopted to various countries will provide opportunities for the community to engage in a range of mediums which may include but will not be limited to visual arts, performance arts and literary arts.
Note: The Creatives Arts Program is within the scope of the Program Proposals which are due Jan 8, 2023.
Family Programming
With the increased number of adoptees bringing their families to the Gatherings, IKAA introduced a "Family Program" in 2013. The Program includes family friendly activities, and presents opportunities for joining families to bond and jointly explore Seoul.
Other Programming
Opening Ceremony & Reception
Nightly Socials
Korean Food Event
Closing Party
And more!
COEX will be the primary location for the IKAA Korea Gathering. Programming, including the Opening Ceremony, Research Symposium, Workshops / Presentations / Discussion Groups, and more will be held at or near to COEX. COEX is located in Gangnam (south of the river). The location provides convenient access to public transportation like buses and the subway (line 2, 7, and 9). See COEX's site for directions and map.
Accomodations
We recommend that attendees stay near COEX for convenience. One major advantage of this location is the number of accommodation options in the area. There are a number of hotels which are walking distance to COEX. Additionally, past participants have stayed at Airbnbs and Guesthouses. The map below shows hotels in close proximity to COEX. See the full map and list/links of nearby hotels here. They vary in size, amenities, and price point. Overall, participants have many options for accommodation and can stay in close proximity to other attendees.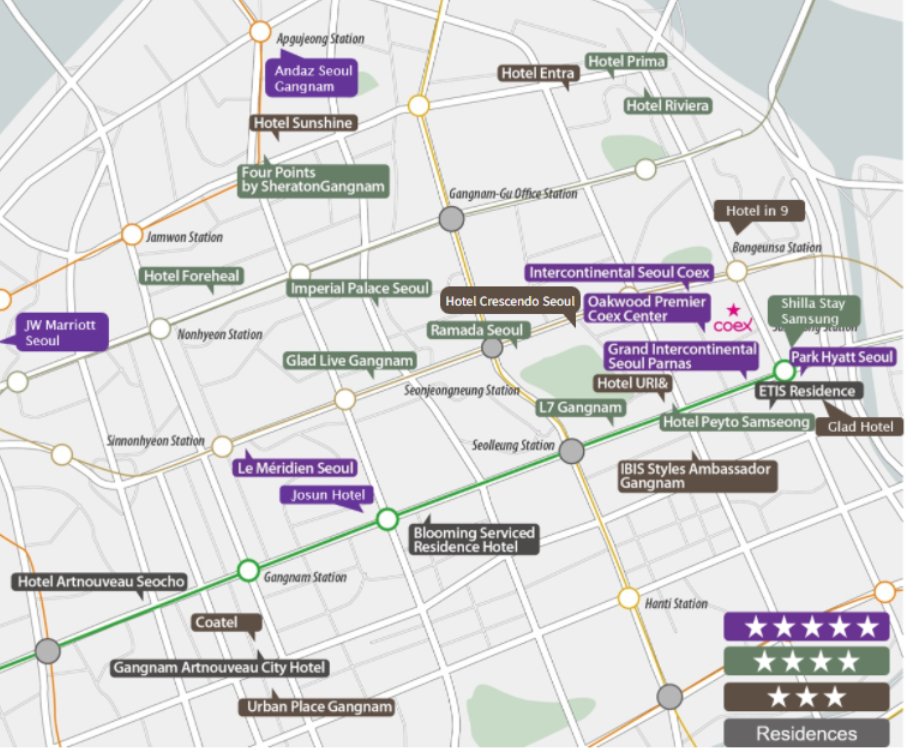 Frequently Asked Questions